How to use Hydra Pearl Whitening Gel?
How does Hydra Pearl work?
Hydra Pearl teeth whitening gels contain hydrogen peroxide, an active whitening agent that whitens stains in your enamel. Upon application, hydrogen peroxide quickly releases oxygen molecules which eliminate stains in your teeth. Only 15 minutes is required for whiter teeth. Repeat this process daily for 5-10 days to achieve the best whitening results. The whitening treatment will last 6-12 months.
What is the unique about Hydra Pearl's formula?
Hydra Pearl whitening gel contains potassium nitrate and fluoride sodium, which help strengthen enamel and reduce sensitivity. We developed our formula with the consultation of dentists. Also, our whitening gel has been tested by more than 50 dentists and hygienists with satisfactory results.
Our gel tastes great with two flavors, strawberry and mint. Customers say that Hydra Pearl provides a much more comfortable whitening experience because of the pleasant taste.
How does Hydra Pearl compare to other whitening products such as whitening strip?
We've tested many of the whitening products on the market and our whitening gel demonstrated superior results. Click to see our data.
In addition, Hydra Pearl requires a shorter wear time, only 15 minutes per day compared to a 30-40 minutes wear time required by other products. Hydra Pearl provides a more convenient at-home whitening experience.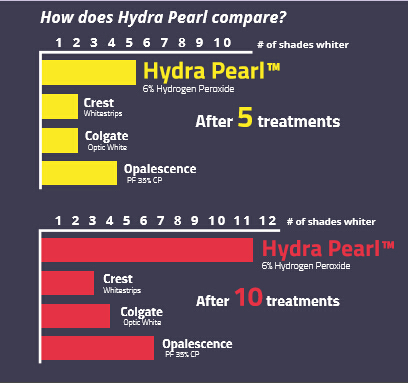 Will teeth whitening weaken my teeth?
Hydra Pearl tooth whitening gel does not weaken your teeth by changing enamel hardness (see data here). Our gel contains potassium nitrate and sodium fluoride which reduce potential sensitivity throughout your whitening process.
Do I need to go see a dentist to whiten my teeth?
Although seeing a dentist for whitening consultation is highly recommended, a visit to the dentist isn't required to get professional whitening results with Hydra Pearl. Our 6% hydrogen peroxide teeth whitening gel can be safely used in the privacy of your own home. Our take-home whitening kit includes everything you need for tooth whitening at home. Inside one kit:
4 whitening syringes (good for 12 treatments)
2 trays
1 tray case
1 travel bag
1 color shade card and instruction card
Is Hydra Pearl gluten-free?
Yes, Hydra Pearl whitening gel is gluten-free.
Is Hydra Pearl safe to use if I am pregnant or breastfeeding?
You should not use tooth whitening products if you are pregnant or breastfeeding.
Is there anyone who should not whiten his or her teeth?
Pregnant women and those who are breastfeeding should not whiten teeth. If you have gum disease, worn enamel, cavities, and exposed roots, you should not whiten your teeth.
How many flavors does Hydra Pearl have?
Hydra Pearl tooth whitening gel comes in strawberry and mint flavor.
How long does it take to whiten teeth using Hydra Pearl?
You only need to use Hydra Pearl for 15 minutes per day and use for 10-15 days. Consistently applying the whitening gel everyday is very important for optimal whitening results. You will see obvious change after 3-5 treatments. After 10 treatments, you will expect a change up to 10 shades. You can track your progress using the color shade card provided with the kit.
What happens if I forget a treatment?
It is ok if you forget to apply whitening gel one day after you started the treatments. You can resume whitening at any time you desire. We recommend you to use the product for a consecutive of 10 treatments for best results.